The leader of the Indigenous People of Biafra (IPOB), Nnamdi Kanu, has challenged President Muhammadu Buhari to vanquish the unsettling for withdrawal by his followers by showing a superior contention rather of the barrel of the firearm.
He said this at his country home in Afaraukwu Ibeku, Umuahia, during a talk with journalist while responding to the President's request against IPOB, and other criminal gatherings.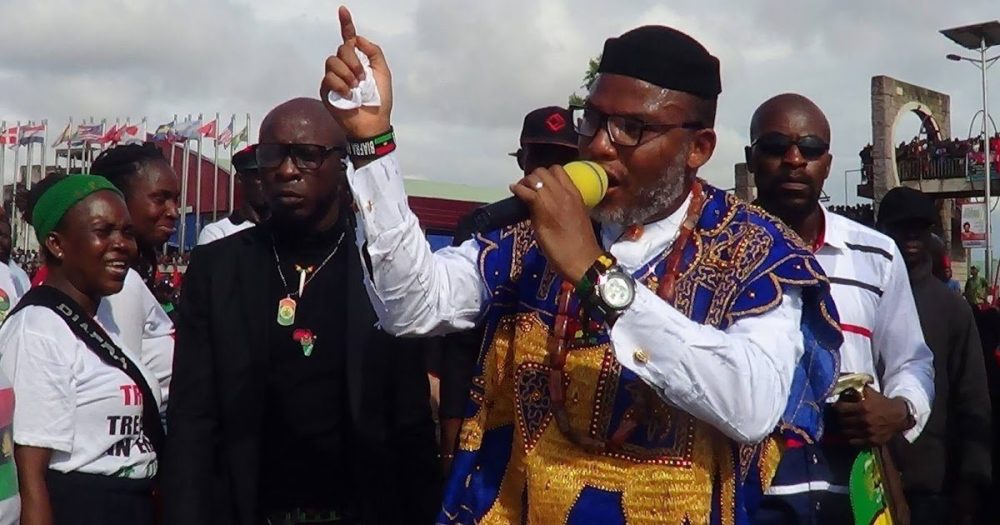 Buhari had ordered his service chiefs on Tuesday, August 22, to deal decisively with Boko Haram terrorists, IPOB agitators, marauding herdsmen and other criminal elements, saying that they constitute a security threat to the country and its unity.
In his reaction, however, Nnamdi Kanu faulted the president, saying that his penchant for recourse to brute force to solving burning national problems would yield no results, adding that the people must not be "railroaded into succumbing to intimidation."
He said Buhari should know that there are better ways to handle issues that concern the growth and development of the country instead of resorting to threat or intimidation of the citizenry into believing in his course.
Kanu said:
"In this debate for freedom, everybody has to be heard. Buhari should defeat me with the superiority of his argument not AK 47.

"Some people quickly recourse to violence, hate and intimidation because they have lost the force of argument."
The IPOB leader argued that it was very wrong for the president to compare and lump IPOB, a peaceful mass movement, with Boko Haram, an internationally recognised terrorist organisation.
He noted that Buhari's decision to unleash Nigeria's security forces on IPOB had further demonstrated his dictatorial traits and his determination to enforce national unity on his own terms and those of his people.
"It is the continuation of the Buhari regime's dictatorial and unwholesomely undemocratic approach to governance. I find it unacceptable, abhorrent and insulting that somebody elected by the people can turn around and dictate to them how he wants them to behave," the IPOB leader said.
Kanu reminded Buhari that he was elected to govern Nigeria and he should therefore face the business of governance "and not to instigate another war".
He advised the Nigerian president to borrow a leaf from former US President Dwight Eisenhower who was an army commander, fought in a war and later became president because he was a democrat at heart.
Nonetheless, Nnamdi Kanu maintained that no matter how menacingly Buhari intends to bare his fangs, his action would in no way diminish the quest for Biafra's self-determination, saying: "We are not afraid because IPOB is a peaceful mass movement, not a violent armed group."
Kanu stated that no matter how anybody intends to characterise IPOB, there must be a distinction between a non-violent, peaceful mass movement as represented by IPOB and any other group whose activities pose a threat to national security.
According to him, "Most Nigerians live in denial, they know the truth but have chosen to ignore it," adding that the records are there to prove that IPOB has remained a peaceful, non-violent organisation since its formation.
He said:
"There is no record of injury being sustained, people fighting or having any altercation in any of the numerous IPOB gatherings where people converged in their millions to listen to this gospel of the restoration of Biafra. Not one single incident.

"We are the most disciplined, most well behaved mass movement anywhere on the face of this planet.

"Despite the genocidal killings, despite the arbitrary arrests, illegal detentions without trial, we can never be provoked into any armed conflict.

"We have refused to be provoked to armed rebellion; that is what Buhari is looking for. Buhari wants a war but we won't oblige him because we are civilised people."
On the formation of the Biafra Security Service (BSS), the IPOB leader explained that it was set up to prevent the menace of Fulani herdsmen, which he erroneously said Buhari avoided mentioning during his address because they are his kinsmen.
Kanu further explained that the BSS, which according to him, enjoys the full support of the people in the South-east and South-south became necessary following the threat by the coalition of Arewa youth groups to expel Igbos from the northern states.
"No army was set up. We have a Biafra Security Service to give us intelligence regarding the October 1 quit notice," he said, adding that there was no reason the establishment of the BSS should raise any eyebrows since the Sharia police or Hisbah exists in states in the north.
"The majority of our people across the length and breath of the South-east and South-south support what IPOB is doing. They also support the formation of the Biafra Secret Service that will take care of this land in terms of its security needs.
"The rampaging Hausa-Fulani herdsmen will be a thing of the past, we can no longer allow it to go on," Nnamdi Kanu said.